2022 Tamales Information
Delicious handmade tamales available each fall, perfect for the holidays & beyond!
Pre-orders are closed. Pick up at orders at our Howdy Holiday Sale on November 19th. There will be a limited number available for walk-up sales.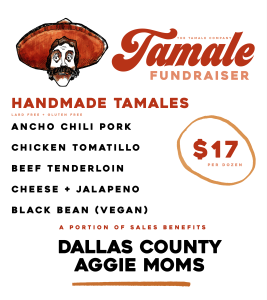 Tamales are sold by the dozen for $17 and delivered frozen. Filling options:
Ancho Chili Pork (Gluten free + Dairy free)
Cheese & Jalapeno (Gluten free)
Chicken Tomatillo
Black Bean & Corn (Gluten free + Dairy free)
Beef Tenderloin (Gluten free + Dairy free)
If you have any questions or would like additional information, please contact DCAMFundraising@AggieNetwork.com.
As always, we appreciate your support of scholarships and student organizations at Texas A&M University!