Thank you for your interest in our Tamale Fundraiser!
We're accepting orders now through Nov. 16 for delicious tamales from The Tamale Company!  This is the same supplier we used last year!
The price is $15 per dozen (of one flavor,) and your filling options are:
Ancho Chili Pork

Chicken Tomatillo

Black Bean + Corn (vegan)

Beef Tenderloin

Cheese
To place and pay for an order, you may use our online link HERE
Or you may bring this order form (Click HERE) to a meeting and pay by check.  You can use this form to take orders from your friends, as well!  Checks may be made payable to Dallas County A&M Mothers' Club.

The tamales are sold by the dozen, and they will be delivered frozen.
Please plan to pick up your order during our Howdy Holidays Gift Market on Dec. 1, 9:00-3:00, at the church where we hold our monthly meetings:
University Park United Methodist Church
4024 Caruth Blvd, Dallas, TX 75225
Also, If you would like to send tamales to any out-of-town family or friends, you may place an order directly with The Tamale Company, and a portion of the sale will be donated back to our club.  Just be sure to use the promo code:  Dallas Aggie Moms in the box labeled "Note Section for : Gift Note | Delivery Instructions | Fundraiser Code."  More information about shipping is available on their website:  https://thetamalecompany.com/pages/shipping
If you have any questions or would like additional information, please contact DCAMProfitShares@AggieNetwork.com.
As always, we appreciate your support of scholarships and student organizations at Texas A&M University!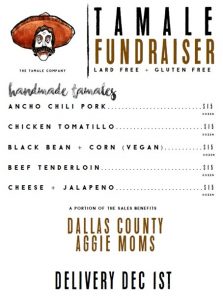 Same Price as last year
Thanks and Gig 'em!