Dallas County Aggie Moms' Club is a service and social organization that supports Texas A&M students and their parents. Our meetings offer opportunities to learn more about the University from each other and from great guest speakers. Special events allow us to raise funds for student scholarships and student organizations.
Contact us at DallasCoMoms@AggieNetwork.com.
Let us contact you by subscribing to our weekly eblasts.
---
Monthly Meetings & Programs
Members and guests welcome! Visit the Meetings page for the complete list of dates and programs.
3rd Thursdays during the school year at 7:00 p.m. with social time 30 minutes prior
First United Methodist Church Richardson Ogden Fellowship Hall, 503 N Central Expy, Richardson, 75081
---
Thanks for Making Our 100th Birthday Celebration a Huge Success!
On February 26, 2022, The Dallas County Aggie Moms' Club celebrated its 100-year anniversary with a Century Celebration Gala.  We extend our deepest thanks to the many generous donors who contributed to the success of this event and scholarship fundraiser!
Sponsors
Isabel & John Campbell
Francy '90 & Greg '90 Collins
Hunter Family '85 '87 '15 '16
Peggy & Ralph Nolan
Sara '94 & Rick Casner
Janet Hodges Davis '79
Robin & Bill McMahan '88
Fran & Bill Carter '69
Jane & Robert B. "Butch" Miller '69
Kate & Patrick Moebel
Judy & John C. Moen '72
Terry & Dennis Carpenter
Kathy & Ken Jagielski
Jennifer '95 & Brad '95 Worth
Becky & Dave Adams
Messina Hof (Grapevine)
Silent Auction Donors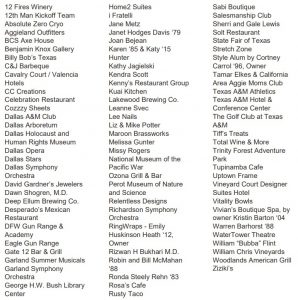 Other Special Event Donors
Dunston's Steakhouse provided pre-concert meals for the Singing Cadets
Wild Orchid Florist in Sunnyvale created the gorgeous floral arrangements