Big Event  – Saturday, March 25th
Please join us, this Saturday, March 25, 2017: Inspired by the Big Event in College Station, the Dallas County Aggie Moms' Club has organized a local service project for the same day! We still need items for the Easter baskets we will pack — click here to bring items.

  Click here for more details about the event.
General Meeting & Elections – Thursday, April 20th
Please join us on Thursday, March 16th for our General Meeting and elections for next year's Board (click here for full slate). We meet at University Park United Methodist Church (UPUMC) at 4024 Caruth Blvd. Social time is at 6:30, and the business meeting begins at 7:00.
THANK YOU TO THESE SPONSORS WHO CONTRIBUTED TO THE SUCCESS OF OUR SINGING CADETS CONCERT!
Mr. and Mrs. Robert Elder
Mr. and Mrs. John Campbell
Fran & Bill Carter '69
Mr. Bob Farrow '79
Robin & Bill McMahan '88
Terry Carpenter, Ebby Halliday Realtor
Chip & Beth Glispin
KeelerFenton Family '82, '13
 –
And special thanks to Grub Burger Bar for providing the entire group with a hearty pre-show dinner!

CONGRATULATIONS to Renee Blamer, the winner of our raffle drawing, held on February 18, 2017 at the Singing Cadets Concert!  Renee won the Benjamin Knox signed and numbered (2/250) limited edition print:  Aggie Mom Quilt.  Thank you to everyone who purchased raffle tickets.  All proceeds will go to scholarships!
---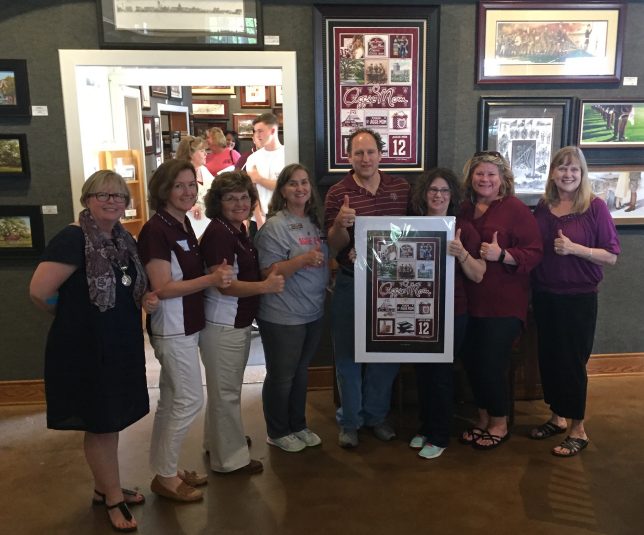 ---
CALENDAR
For a complete listing of our meetings and events, see the full calendar here.

---
JOIN or RENEW 
by mailing a check with the 2016-2017 membership form (click here) or via our secure online payment link here.  Just select Membership 2016-2017 and click "add to cart." For more info, contact Carol Barke at dcammembership@gmail.com.
---
MEETING LOCATION
Our General Meetings are held at University Park United Methodist Church, 4024 Caruth Blvd., Dallas, TX 75225.  Note: this is a new location for us.  We are no longer meeting at the Extension Center on Coit Rd.
---
Dallas County Aggie Moms' Club is a service organization that supports Texas A&M students and their parents.  At our meetings and special events we learn more about the University from each other and from great guest speakers.  We also raise funds to provide student scholarships and financial support to student organizations. Aggie Dads and friends are welcome at most of our events.