COMING UP:  Aggie Moms Connecting (AMC) at Starbucks!

Drop by Starbucks located in the Shops at Park Lane across from North Park,  on Thursday, August 31  between 6 and 8 pm, to share a "Howdy!" and "How are you?" before you head on your way.
Hope to see you there!
Thursday, September 21 General Meeting
It's our first monthly meeting of the school year!  All returning and new Aggie Moms are invited to join us!  A light meal will be served at 6:30 pm; meeting will begin at 7:00 pm.
Location:
University Park United Methodist Church
4024 Caruth Blvd
Dallas, TX 75225
If you have any questions, please send an email to dallascountyaggiemoms@gmail.com
Anticipating the 2018 Big Event!
Thanks to all who participated in our Big Event service project Spring 2017. We put together 50 Easter baskets, over 25 hygiene boxes and wrapped 27 Birthday boxes!
PLEASE SAVE SHOE BOXES – and perhaps wrapping paper, too.  We wrap the boxes for Hope Supply Co. to fill with birthday goodies when client agencies request assistance for their children in need.  The only boxes that are provided, are ones someone has donated, so let's pull together for the kids and stack those shelves!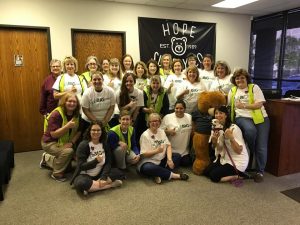 For a complete listing of our meetings and events, see the full calendar here.

---
JOIN or RENEW 
by mailing a check with the 2017-2018 membership form (click here) or via our secure online payment link here.  Just select Membership 2017-2018 and click "add to cart." For more info, contact Isabel Campbell at dcammembership@gmail.com.
---
MEETING LOCATION
Our General Meetings are held at University Park United Methodist Church, 4024 Caruth Blvd., Dallas, TX 75225.  
---
Dallas County Aggie Moms' Club is a service organization that supports Texas A&M students and their parents.  At our meetings and special events we learn more about the University from each other and from great guest speakers.  We also raise funds to provide student scholarships and financial support to student organizations. Aggie Dads and friends are welcome at most of our events.