A very sincere and heartfelt thank you to all who attended the Singing Cadet concert last night. Thanks to all of our hardworking volunteers, our kind sponsors,  generous auction participants, extremely flexible LLUMC and of course the TAMU Singing Cadets for a very successful event. Working together DCAM did a great job!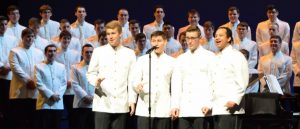 AGGIE MOM THANKS TO OUR 2018 CONCERT SPONSORS!
Mr. and Mrs. Robert Elder
John and Isabel Campbell
Fran and Bill Carter '69
KeelerFenton Family '82, '13
Robin and Bill McMahan '88
Terry Carpenter, Ebby Halliday Realtor
Hunter Family, '85, '87, '15 & '16
Jane & Butch '69 Miller
Reliable Chevrolet
We would also like to acknowledge the generosity of Grub Burger Bar for feeding ALL of the boys their pre-show dinner!
Friday, March 2, 11:15 am- 2:30 pm
Women, Wealth & Wisdom: 

A FREE FINANCIAL & ESTATE PLANNING EVENT FOR WOMEN OF ALL AGES AND STAGES. Presented by Aggie Women
Join Aggie Women for our first-ever regional Women, Wealth & Wisdom workshop at the Irving Convention Center on March 2, 2018!
Featuring keynote speaker Joy Kirsch as well as informative breakout sessions with Ashley Parks and Sara Ramadan,
Women, Wealth & Wisdom will leave you feeling empowered and inspired.
Although this event is free to attend, registration is required. Click here for more details and to register.
Sunday, March 4,  3-5 pm District 2 Meeting
District 2 meeting at La Madeleine 3072 Mockingbird
Please RSVP to Karen Hunter at dcamonline@gmail.com by March 1st..
Thursday, March 8, General Meeting at 6:30 pm
University Park United Methodist Church- come help us make boutique items for our big sale at Family Weekend. No artistic talent required. 
We will have salads before the meeting starts. Click here to sign up to bring either a salad or dessert.
Saturday, March 24th
THE BIG EVENT at Hope Supply Company
Deadline to order a t-shirt is March 8th. Cost is $5.00. If you want a t-shirt, email Robin at dcampres@gmail.com
For a complete listing of our meetings and events, see the full calendar here.

---
JOIN or RENEW 
by mailing a check with the 2017-2018 membership form (click here) or via our secure online payment link here.  Just select Membership 2017-2018 and click "add to cart." For more info, contact Isabel Campbell at dcammembership@gmail.com.
---
MEETING LOCATION
Our General Meetings are held at University Park United Methodist Church, 4024 Caruth Blvd., Dallas, TX 75225.  
---
Dallas County Aggie Moms' Club is a service organization that supports Texas A&M students and their parents.  At our meetings and special events we learn more about the University from each other and from great guest speakers.  We also raise funds to provide student scholarships and financial support to student organizations. Aggie Dads and friends are welcome at most of our events.