MEET THE YELL LEADERS!
It's time for our annual Howdy Party!
New students and their families are invited!
Got questions?  Get answers!
Hear a speaker from the Prospective Student Center!
Join us on Sunday, July 8, 2018, 3:00 – 6:00 pm
University Park United Methodist Church
4024 Caruth Blvd., Dallas, TX 75225.
It's a "come and go" event featuring speakers and informational tables.
We're looking forward to sharing some tips and insights. #dontmakethesamemistakeswedid!
Download a copy of the invitation by clicking here. Please share it with any other new Aggie moms or students you know!  If you have any questions about the event or our club, contact us at dallascountyaggiemoms@gmail.com.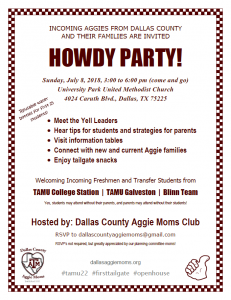 Also, be sure to follow our facebook page for more info on our club's summertime events!
For a complete listing of our meetings and events, see the full calendar here.

---
JOIN or RENEW 
by mailing a check with the 2017-2018 membership form (click here) or via our secure online payment link here.  Just select Membership 2017-2018 and click "add to cart." For more info, contact Isabel Campbell at dcammembership@gmail.com.
---
MEETING LOCATION
Our General Meetings are held at University Park United Methodist Church, 4024 Caruth Blvd., Dallas, TX 75225.  
---
Dallas County Aggie Moms' Club is a service organization that supports Texas A&M students and their parents.  At our meetings and special events we learn more about the University from each other and from great guest speakers.  We also raise funds to provide student scholarships and financial support to student organizations. Aggie Dads and friends are welcome at most of our events.