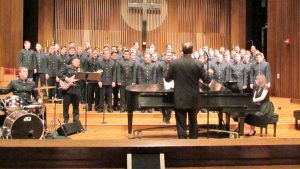 The Dallas County Aggie Moms' Club was proud to host a performance by the Texas A&M Singing Cadets on February 18, 2017 at the Lovers' Lane United Methodist Church.
Proceeds from the evening's ticket sales and silent auction will help fund scholarships and donations to student organizations.
The Dallas County Aggie Moms would like to thank the event's sponsors for their generous support:
Mr. and Mrs. Robert Elder
Mr. and Mrs. John Campbell
Fran & Bill Carter '69
Mr. Bob Farrow '79
Robin & Bill McMahan '88
Terry Carpenter, Ebby Halliday Realtor
Chip & Beth Glispin
KeelerFenton Family '82, '13
–
Special thanks also goes out to Grub Burger Bar for providing the entire group with a hearty pre-show dinner!
And, as always, thank you to our wonderful volunteers who worked hard in advance and on the night of the event to make sure everything ran smoothly!
Thanks and Gig 'em!
Sharon Keeler
2016-2017 Singing Cadets Concert Chair
dcamcadetconcert@gmail.com