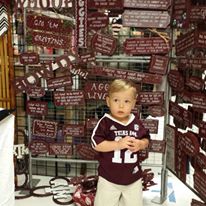 Our fundraising efforts on behalf of the students (current and future!) include making and re-selling lots of fun Aggie items.  Be sure to stop by our table at the Howdy Party in the Summer and the Holiday sale in December. 
We also have a big booth every year at the huge Family Weekend Boutique in College Station.  Be sure to stop by or ask about volunteering!

All profits head down to College Station to fund scholarships and donations to Student Organizations.