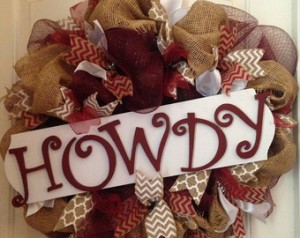 We schedule monthly opportunities to socialize and get to know our fellow Aggie Moms on a more personal level and have fun at the same time. Our goal is to offer a variety of activities.
Gatherings are announced in our weekly eblasts and in our DCAM Members Only Facebook group.
---
Crochet a Scarf Night
Monday, September 25th at 6 PM at Half Price Books (5803 E NW Hwy, Dallas)
** Back by popular demand! For those who joined us last time, bring your scarf or other crocheted item to show off your progress. **
Forget the temperature outside and join us to learn how to crochet a scarf!
Things You'll Need
1. Yarn in the color and type of your choice*
2. A crochet hook that is appropriate for the yarn you are using (check the label)
* A medium gauge yarn in a light color is easier to see when learning.
Questions? Contact Karen at DCAMWebmaster@AggieNetwork.com.
---
Cookie Decorating
Thursday, September 28th, 6:30 – 8:30 PM at Cake Carousel (Richardson Heights Village 100 S Central Expy #36, Richardson)
Just in time for the Southwest Classic, we're making Aggie cookies!
You'll learn how to decorate cookies from a professional cookie decorator and take home
6 Aggie themed cookies for your family. Hopefully, your Aggies will be home to enjoy them.
The cost is $45. Space is limited. Please reserve before Monday, September 25th.
You may bring a charcuterie item to share. Beverages (including wine) are also permitted.
For questions and RSVP: Contact Taressa at DCAMPrograms@AggieNetwork.com.
---