We are so grateful for the support of these generous merchants who, with your help, are supporting scholarships and donations to student organizations at Texas A&M!
PLEASE JOIN US FOR THESE FUN EVENTS!
Wine, Cheese and Jewelry!
Kendra Scott in Preston Center
Tuesday, October 9, 5:00-8:00
10% discount on all purchases and 10% donation back to DCAM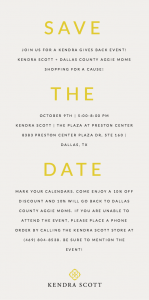 WATCH THE AGGIES BTHO MISS STATE

Saturday, October 27, 11 a.m.–11 p.m.
Grub Burger Bar, 4925 Greenville Ave.
Order a delicious meal, tell them we sent you
and Grub Burger will donate 20%!
p.s. Aggies @ Mississippi State game will be on in the bar
JUMP START YOUR HOLIDAY SHOPPING

Monday, November 19, 5:30-7:30
Swoozie's, 8417 Preston Center Plaza
Enjoy a 15% discount on all purchases, and
Swoozie's will donate 15% of sales!
Come early because they have a LOT to look at!