Benjamin Knox has designed and painted a unique work of art which honors the contributions Aggie Moms make to their students and to the university.  Mr. Knox has issued a limited number (250) of signed prints which are available only from local Aggie Moms Clubs.  The clubs will offer the prints in various fundraising activities and all proceeds raised will be donated back to Texas A&M for scholarships.
The Dallas County Aggie Moms Club, established in 1922, is proud to be the first Aggie Moms Club, and is proud now to have received numbers 1-6 of these special Knox prints!  We are looking forward to offering these prints at events during the 2016-2017 school year.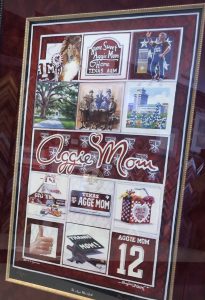 Print No. 1 (pictured above) will be offered in a Silent Auction at our Singing Cadets Concert on Feb. 18.  Thank you to Fast Frame (Knox/Henderson) for donating the beautiful framing!
Print No. 2, unframed, will be offered in a raffle at our Singing Cadets concert on Feb. 18.  Need not be present to win.  Tickets are $10 each or 3 for $25.  To purchase tickets in advance, contact Sharon at dcamcadetconcert@gmail.com!
To join us at the concert:  https://SingingCadetsDallas.eventbrite.com