CALLING ALL MAY GRADUATES
Calling all Dallas County Aggie May Grads! You do not have to be a DCAM member to receive a special gift and our sincerest congratulations.
We invite you to our Annual Meeting on Thursday, May 19 at 7:00 PM. The deadline to get us your information is May 1, 2016! Please email dcamcorresec@gmail.com with the following information: Aggie Graduate Name, Class Year, Major, Minor, Honors, Extracurriculars, Future Plans and Parents' Names (include A&M class years, if applicable).
Congrats & Whoop!
MAY GENERAL MEETING
Our May General Meeting will be held on
Thursday, May 19th
 at University Park United Methodist Church  (
4024 Caruth Blvd., Dallas, TX 75225
). The Business Meeting and other activities will begin at 7:00; come early to eat, visit and celebrate our graduates!
---
PARENTS' WEEKEND WRAP-UP!
What a great Parents' Weekend — between all of our kids' events and the many on campus events, it was exciting…and exhausting! We had two Dallas County Aggie Moms installed at the Federation Meeting on Saturday morning: Peggy Nolan is 1st VP Membership, and Karen Hunter is Aggie Mom Camp Co-Chair. We also presented a check to the Singing Cadets for the February concert, presented the Corps Leadership Award and met with one of our Endowed Scholarship recipients. All of this while selling our Boutique items and raffle tickets.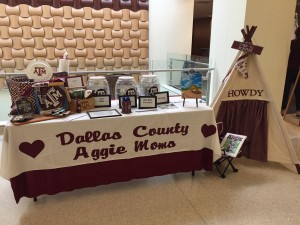 Raffle Winners:
Ring Painting – Jamie Voss Harrison
Kids' Tent Set – Sheila Lewis '93
Tailgate Basket — Joe Schmidt (visiting from Illinois!)
Many thanks to all of our members
and family members
who participated in the preparation or during the weekend!
Sewing, scrapbook, wood and other craft sessions:
Robin McMahan, Kathy Jagielski, Tommie Kenas, Karen Hunter, Peggy Nolan, Sharon Keeler, Tricia Harrison, Gigi Cain, Beverly Curtis, Martha Mock, Denise Renter, Margaret Bell, Missy Rodgers, Laurie Moon, Kay Haaser, Brenda Patterson, Debbie Duarte, Nancy Poynter, Sheila Chaplin, Susan Bitts, Lucy Alejandro, Sharon Ross, Elisa Edgar, Sissy Canto; special recognition to Martha Tucker.
Donating our raflle items:
Laura Drumwright (artist of Ring Painting), Kathy Jagielski (seamstress for tent), Peggy Nolan (tailgate basket).
Packing, organizing & transportation:
Kathy Jagielski, Tommie Kenas, Sharon Keeler, Karen & Cary Hunter; Special shout out to Bill Kenas for making our brand new wood display boards!
Set -up (in 2-1/2 hours!)
Cathy, Kelly & Chris Brannum, Liz & Mike Potter, Robin McMahan, Karen, Cary & Craig Hunter, Sharon Keeler, Tommie Kenas
Work Shifts:
Tommie Kenas, Sharon Keeler, Karen Hunter, Liz & Mike Potter, Robin McMahan, Carrie Jones, Tricia Harrison, Denise Renter, Jamie Harrison, Tanya Ward, Margaret Bell, Eve Herman, Craig Hunter, Tyler Rozelle
Tear Down (in 1 hour!):
Sharon Keeler, Margaret Bell, Eve Herman, Karen, Cary & Craig Hunter
Federation Meeting Attendance as Voting Delegate:
Karen Hunter, Sharon Keeler, Tanya Ward, Tricia Harrison, Judy MoenMeeting with Scholarship Recipient: Karen Hunter, Sharon Keler
Presentation of Corps Leadership Award: Margaret Bell
It would not have been possible without everyone who pitched in. Shout out to Judy for postponing dinner and stepping in as a delegate. Special recognition to Tommie Kenas and Sharon Keeler for making it all work!
---
CALENDAR
For a complete listing of our meetings and events, see the full calendar here.

---
JOIN or RENEW 
by mailing a check with the 2015-2016 membership form (click here) or via our secure online payment link here.  For more info, contact Carol Barke at dcammembership@gmail.com.
---
MEETING LOCATION
Our General Meetings are held at University Park United Methodist Church, 4024 Caruth Blvd., Dallas, TX 75225.  Note: this is a new location for us.  We are no longer meeting at the Extension Center on Coit Rd.
---
Dallas County Aggie Moms' Club is a service organization that supports Texas A&M students and their parents.  At our meetings and special events we learn more about the University from each other and from great guest speakers.  We also raise funds to provide student scholarships and financial support to student organizations. Aggie Dads and friends are welcome at most of our events.