It's our first social outing of the year! Join us at Ozona on Wednesday, Aug. 31, 5:30-7:00. New Aggie Moms, too! We know you're out there and we'd love to meet you!  Click
here
for the evite.  And if you'd like more info, call Cindy at 214-364-2877!
We're honored to be hosting the Singing Cadets in Concert on February 18, 2017!  Planning for this fun event is already underway, and we would love your input!  Join us at the next concert planning meeting on Monday, Aug. 29 at 7:00 in the upstairs lounge of Whole Foods (Preston & Forest). Questions? Contact Sharon at 
dcamcadetconcert@gmail.com
.
---
Howdy Party 2016 – 12th Man Tailgate @ 12!
Help us spread the word: Calling all incoming Texas A&M freshmen, transfer students and parents! Come meet new TAMU students from the DALLAS and COLLIN COUNTY area!
Join us for a Howdy Party — "12th Man Tailgate @ 12:00″…Saturday, July 9th, noon – 2 PM T the Texas A&M AgriLife Center (17360 Coit Rd, Dallas 75252).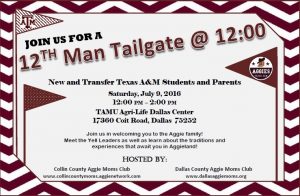 ---
Howdy! Please pass this information along to all incoming Aggies (freshmen and transfers). Because of recent legislation handed down in Texas, TAMU will not be able to provide Aggie Moms' Club with contact information for incoming Aggies for Summer and Fall 2016 unless they opt-in to release their contact information. This means the Clubs can't send you information about Howdy Parties, scholarships and other opportunities that the clubs have to offer. "Opting in" can be done by selecting "I authorize Texas A&M University to release my directory information." through their Howdy/AIS portal. Gig 'em!
---
CALENDAR
For a complete listing of our meetings and events, see the full calendar here.

---
JOIN or RENEW 
by mailing a check with the 2016-2017 membership form (click here) or via our secure online payment link here.  Just select Membership 2016-2017 and click "add to cart." For more info, contact Carol Barke at dcammembership@gmail.com.
---
MEETING LOCATION
Our General Meetings are held at University Park United Methodist Church, 4024 Caruth Blvd., Dallas, TX 75225.  Note: this is a new location for us.  We are no longer meeting at the Extension Center on Coit Rd.
---
Dallas County Aggie Moms' Club is a service organization that supports Texas A&M students and their parents.  At our meetings and special events we learn more about the University from each other and from great guest speakers.  We also raise funds to provide student scholarships and financial support to student organizations. Aggie Dads and friends are welcome at most of our events.