UPDATE on tonight's Kendra Gives Back Event!
Friday, October 21, 5:00 p.m. – 8:00 p.m.

If you can't make it to the store, THEY WILL TAKE PHONE ORDERS! The number is 469-804-8538. Just call during the special shopping hours and you'll receive 10% off your entire purchase PLUS Dallas County Aggie Moms will receive a 10% donation for our scholarship fund!
Not sure what to order? Here is a link to their website where you can check out all of their lovely items: https://www.kendrascott.com/ (The offer is not valid for online purchases.)
Reminder: this event will take place at the Preston Center location only. (8383 Preston Center Plaza Drive. Near Sprinkles and Taco Diner.)  If you are a new Aggie Mom, please introduce yourself to the maroon-wearing board members who will be milling about!
---
Don't miss our October General Meeting!
Thursday, October 20, 7:00 pm (come at 6:30 for meet and greet)
University Park United Methodist Church, 4024 Caruth Blvd, Dallas, TX 75225
Announcing a speaker change!
Come hear Matt Vanderbloemen '16 share some his experiences in the Corps, including serving as Deputy Corps Commander under Alyssa Michalke, the first female Commander in the history of the Corps.   Matt currently works in Dallas for Deloitte Consulting.
Friends and Aggie Dads are definitely welcome at this meeting!
---
Special Shopping Night!
10% discount off of your entire purchase AND Dallas County Aggie Moms will receive a 10% donation to benefit our scholarship fund!
Friday, October 21, 5:00-8:00
Kendra Scott – Preston Center location only!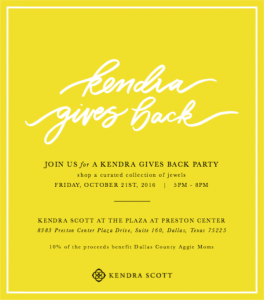 Rock the Cadets Concert 2017!
We're honored to be hosting the Singing Cadets in Concert on February 18, 2017!  Planning for this fun event is already underway, and we would love your input!  Join us at the next concert planning meeting on Monday, November 7 at 7:00 in the upstairs lounge of Whole Foods (Preston & Forest). Note the second meeting in November will be November 14 (not 21.)  Questions? Contact Sharon at 
dcamcadetconcert@gmail.com
---
 CALENDAR
For a complete listing of our meetings and events, see the full calendar here.

---
JOIN or RENEW 
by mailing a check with the 2016-2017 membership form (click here) or via our secure online payment link here.  Just select Membership 2016-2017 and click "add to cart." For more info, contact Carol Barke at dcammembership@gmail.com.
---
MEETING LOCATION
Our General Meetings are held at University Park United Methodist Church, 4024 Caruth Blvd., Dallas, TX 75225.  Note: this is a new location for us.  We are no longer meeting at the Extension Center on Coit Rd.
---
Dallas County Aggie Moms' Club is a service organization that supports Texas A&M students and their parents.  At our meetings and special events we learn more about the University from each other and from great guest speakers.  We also raise funds to provide student scholarships and financial support to student organizations. Aggie Dads and friends are welcome at most of our events.